Terms and conditions:
We apply the general conditions of the Dutch association for trade in dried fruit, spices and related products on all our deliveries.
Download: general terms and conditions PDF( in dutch)
"
Frequent Asked Questions:
Where does Oliva import her olives?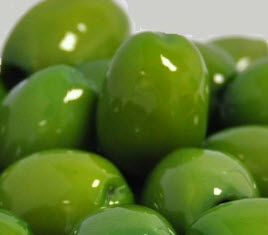 We import our olives from Greece, the best green olives and kalamata olives are from this area.
This plant is located near the town Katerini and counts 16000 square meters. The company is in the olive business since 1956 and are certified with ISO 9002 and HACCP certificates.
The delicious and healthy snack ; olives contain iron and vitamins D, B1 and B2. olives contain among other things iron, vitamin D, vitamin B1 and B2.
Some information about Olives.
---

Olives are just like wine, the taste of the olives determined by different factors. By the type of olives, climate, soil conditions, the time of the harvest, the season (number of hours of Sun), etc. The first olives are picked in September. However, most of the harvest takes place between November and February. Green (table) large olives are picked early in the season, while black olives need to ripe a bit longer. The longer the olives have ripened the higher the nutritional value is.
The Green olive:
Green olives become hand-picked during the ripening period immediately after reaching the maximum size before they fade. These olives are particularly popular because they can be easily processed further. A popular operation is filling the olives with garlic, paprika, goat cheese etc. The olives are sorted by size an colour.
Black olives :

The black olive is also a very popular olive. Sturdy, round in shape with an elastic skin. We can divide this black olives further in to the degree of maturity:

1.Blonde olive, a red-black colour, this is immediately after the Green olive harvested;
2.D
ry olive, a dark-black color;


3.C

halkidiki olive, the mature olive.
Kalamata olives:
These olives have a conical-cylinder like shape. The colour-at the end of the riping process is bordeaux red-violet. By their extraordinary quality and taste this is one of the more expensive olives.
Marinated olives:

A combination of different olive types. Different herbs and spices are used to achieve different flavours. Whole or half, with and without pit, filled, coated etc. Vacuum packed in thick plastic bags, buckets or plastic bins filled with oil keeps the flavour. Perfect for salads or just as a tapa! .